Welcome To
Hamburg Township
Fire Department

Follow us on
---




---
Hamburg Fire Department Unites For Suicide Prevention Month Campaign
WHMI 93.5 FM:
September 4, 2020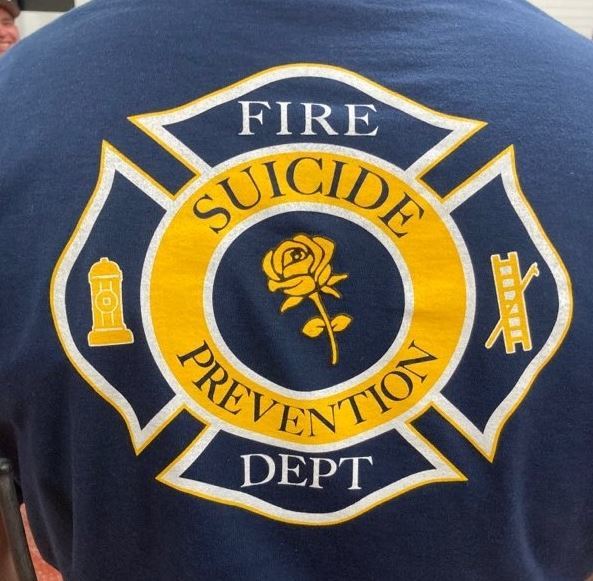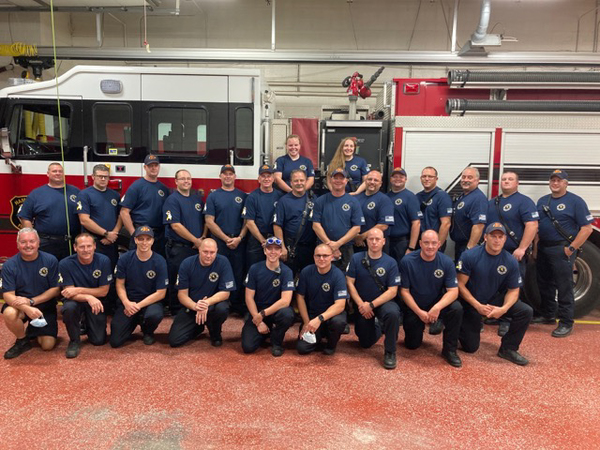 By Mike Kruzman / news@whmi.com


A local fire department has joined the fight with others across the state to bring awareness to Suicide Prevention Month.

Members of the Hamburg Township Fire Department have recently taken an oath to show their compassion for the well-being of their brothers and sisters in fire service and for members of the community. For the month of September, they with other participating departments across Michigan, are changing their uniforms to a suicide prevention t-shirt in honor of the state's new Yellow Rose Campaign. Hamburg Township Fire Chief Nick Miller said the goal of one unifying t-shirt is to look as everyone as the same. He said there are no ranks on the shirts or anything that makes him as the chief look any different than a new firefighter. Miller said they are all in this together, as equals, and have to work as such to make it successful.

Miller told WHMI that while suicide in this country is sometimes treated as an act, it should really be looked at as a disease. He said "you don't feel bad or judge somebody because they die of a heart attack," but "for some reason our society, at times, will judge people of they die of suicide."

Miller said the stigma around asking for help continues to be a large obstacle that they need to break down. Miller said they have mechanisms in place to help, but the trick is getting people to ask. Suicide is the 10th leading cause of death in the United States, but is number 1among those working in fire service. In a release, the Hamburg Fire Department reports that last year there 119 firefighters who lost their lives to suicide, compared to 57 who died serving in the line of duty.

Anybody who may be struggling with thoughts of suicide, or knows someone who is, can call the National Suicide Prevention Lifeline at 1-800-273-8255.

(Photo- Hamburg Township Fire Department Facebook)
---
Open Burning in Hamburg Township relating to COVID 19

Press Release from Livingston County Fire Chief's Association (Click on link to access PDF)
Mission Statement
The Hamburg Township Fire Department is a unique professional organization that will safely and effectively respond to emergencies for the protection of life, property and the environment for those who live, work, visit or invest in our community.
Goal
Each firefighter shall strive to deliver the highest quality service through training, preparedness, planning, and prevention in order to ensure that our community maintains a high quality of life.
YARD WASTE BURNING
The Fall 2019 Yard Waste Burning Season runs October 1st through November 30th. If you have questions, view Hamburg Township Burn Ordinance No. 40F or contact the Fire Marshal, Jordan Zernick, at 810-222-1105.

News & Events
Learn about recent happenings and upcoming events with the Hamburg Fire Department. More

Are You A Person With Disabilities Or Special Needs?
In an effort to strengthen Evacuation Preparedness in Hamburg Township, the Fire Dept. is requesting all township residents that may need special assistance to voluntarily self-identify themselves so that arrangements can be made to meet those needs in the event of any emergency evacuation. Click here to go through the Medical Alert Information Questionnaire to see whether you are a person needing special assistance in an emergency.

Staying Safe - Safety Tips
Are you taking the necessary steps to stay safe from fire and injuries? Learn more safety tips here.
Change Your Clock and Change Your Batteries: Switching from EDT to EST is a good time to replace your smoke detector's batteries. With todays lithium ion batteries we also recommend checking the functionality of your detector at this time.
Inspect your fire extinguisher for pressure every month.



---
Hamburg Township Fire Department
E-mail:
HTFD@hamburg.mi.us
Office Hours:
Monday - Friday | 8:00 a.m. to 5:00 p.m.
Address:

Mailing Address:
10100 Veterans Memorial Drive
P.O. Box 157
Hamburg, Michigan 48139

STATION 12
Physical Location:
10100 Veterans Memorial Drive
Whitmore Lake, Michigan 48189
Phone: 810.222.1100
Fax: 810.231.1974

STATION 11
Physical Location:
3666 East M-36
Pinckney, Michigan 48169
STAFF:

---
Updated September 15, 2020