Media (Press Releases)
---
To report a crime, traffic accident, suspicious activity or to have a Hamburg Township police officer respond to any other call for service including filing a police report please call Livingston County Central Dispatch at 9-1-1 or 517.546.9111.


---
BOATING QUESTIONS DURING COVID-19



From Facebook: Hamburg Township Police Department, Hamburg, Michigan USA
April 6, 2020: The Hamburg Township Police Department has been receiving questions regarding whether boating activities constitute permitted "outdoor activity" under the governor's "Stay Home, Stay Safe" executive order. YES, boating activity is allowed under the executive order as long as it is done in a manner consistent with social distancing, and individuals should use only their own equipment to prevent the transmission of the virus through the touching of shared surfaces. Also, persons must be part of a single household in order to boat together.
For additional information, please click on the following:
https://www.michigan.gov/…/0,9753,7-406-98178_98455-522631-…
---
Hamburg Police Warn Residents Of Job Search Scam
March 1, 2020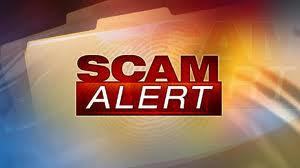 FROM WHMI 93.5 FM: The Hamburg Township Police Department is warning residents of a circulating scam involving a job search website.

According to a recent Facebook post, the department has received three reports of a scam being perpetrated on the job search website "Indeed.com". The suspect posts a job ad on the website which appears to be from a local company. The company names are legitimate businesses, one involving a Brighton business and two involving Dexter businesses.

When the Indeed.com user sends their resume, they receive a response indicating that the original job has been filled but the business happens to have another similar job as a personal assistant. The scammer then indicates that the person who needs an assistant is hosting a seminar and needs supplies so they will be sending a check to the applicant to purchase the supplies. A check, which appears to be from the legitimate company, arrives and the suspect instructs the "new employee" to deposit it immediately using an electronic banking app.

The applicant is then told to provide proof to the company that the check was deposited by texting them a screenshot of the deposit transaction record. The suspect uses the checking account information as well as the information contained in the applicant's resume/job application to access their checking account and remove all of the money. The suspect uses legitimate companies to help authenticate their story but Hamburg Police remind residents that companies will rarely send money to someone who hasn't even worked for them yet.

If in doubt about the legitimacy of a job ad, residents are encouraged to either attempt to contact the business allegedly placing the ad using an independent source for the business contact information, or contact local police.
---

Sunday, January 12, 2020 - 1100 a.m.: Press Release: HAMBURG TOWNSHIP PRESS RELEASE
The National Weather Service has revised the Flood Prediction Forecast for the Huron River in Hamburg Township from the original forecast on January 9th of a major flood on January 16, down to moderate flooding with a flood crest of 857.21 feet on January 15. Hamburg Township Staff, our Public Safety Administration and our Department of Public Works will continue to monitor the river.
---

2019 - Hamburg Police Officers Recognized For Exceptional Actions - December 17, 2019


View the Livestream video of the recognitions segment of the Township Board Meeting by clicking here.

From WHMI 93.5 FM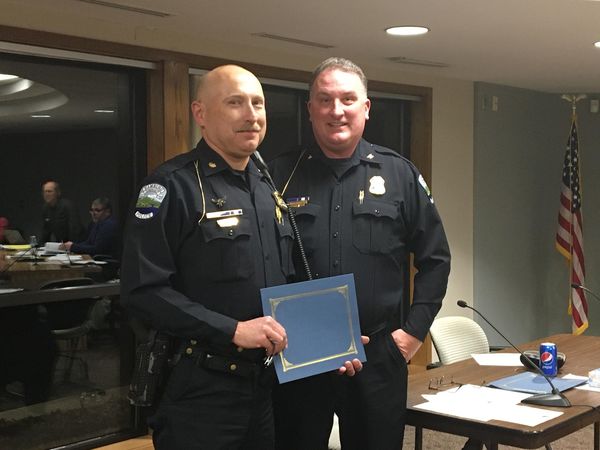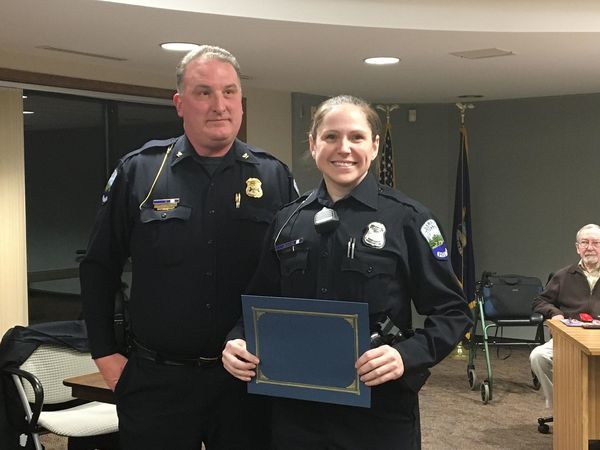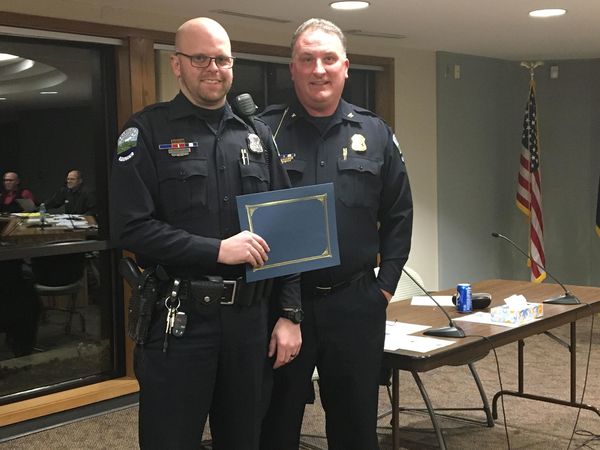 Several members of the Hamburg Township Police Department have been honored for going above and beyond the call of duty. Three officers were recognized for specific instances from the past year at the township's Board of Trustees meeting Tuesday night.

The first to be honored was Deputy Chief Dariusz Nisenbaum, who was awarded a Certificate of Merit for his actions on May 13th, which led to the arrest and conviction of two subjects for larceny. Nisenbaum was reportedly off-duty that day and shopping at the Home Depot store in the City of Brighton when he noticed a male subject acting nervously and checking to see if he was being watched. The subject did not make a purchase before leaving the store and entering a vehicle parked in the parking lot. A second male then left that vehicle and walked into the store. Believing a crime was about to occur, Police Chief Richard Duffany says Nisenbaum contacted Livingston County Central Dispatch and provided them with a license plate from the suspicious vehicle, in addition to requesting that police respond.

Minutes later, the second male subject exited the store through an unlocked gated area that had been unlocked by the first male. The second male was pushing a shopping cart full of items, unloaded them into the vehicle and tried to take off, but were stopped by Brighton officers. Subsequent investigation revealed that about $650 worth of merchandise had been stolen from the store. Both subjects were arrested and the merchandise was returned.

Officer Kimberly Leeds was awarded Department Citations for her investigation into a complaint regarding an alleged sexual assault on a minor girl by an adult relative. Chief Duffany says the investigation conducted by Leeds was very in-depth and comprehensive, noting that she interviewed and re-interviewed numerous witnesses, and executed several search warrants on multiple phones, computers and the residence.

Leeds' investigation uncovered evidence that the suspect had actually sexually assaulted two minor girls over the course of a ten-year period. The suspect was charged with multiple felony counts this past July and recently pleaded guilty. He is now awaiting sentencing.

The third individual to be recognized was Officer Adam Fischhaber, who received the Lifesaving Award for his actions on September 28th that assisted in saving a 56-year-old woman who was in full cardiac arrest. Upon arrival at the scene, Fischhaber found the woman unconscious and her husband attempting to perform CPR on her. Duffany says Fischhaber found no pulse and then took over, performing CPR by himself for nearly three minutes. Fischhaber continued to perform CPR until EMS took over. The woman was transported to the hospital and survived the incident.

Officers from the Hamburg Police Department have been recognized by the township for their exceptional response to specific incidents with a ceremony at the last board meeting of the year. The tradition has continued for the last nine years. (DK)
---
2018 - Hamburg Police Officers Recognized for Outstanding Casework & Response
From WHMI 93.5 FM - December 19, 2018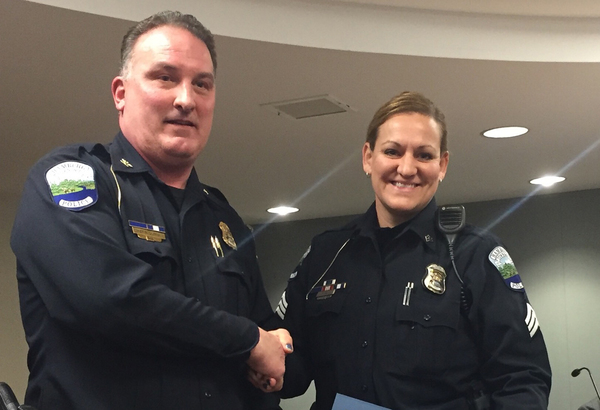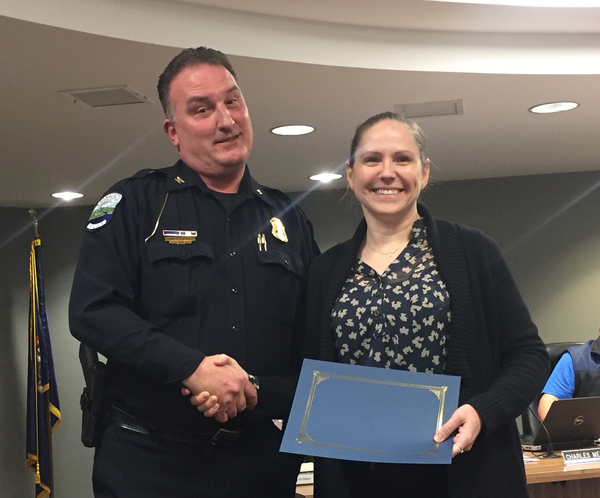 The Hamburg Township Police Department is honoring two of its own officers for their display of perseverance and courage in cases that occurred this past year.

Police Chief Richard Duffany recognized Detective Kim Leeds and Sergeant Megan Paul at a Hamburg Township Board of Trustees meeting Tuesday night. Duffany first presented Detective Leeds with certificates of merit for three separate cases she investigated; two of which were related to sexual assault involving minor children and the third related to credit card fraud.

In one of the sexual assault cases, Leeds received information that a teen male was sexually assaulting his younger sisters, prompting Leeds to immediately request that CPS remove the suspect from the family home. Duffany says CPS told Leeds there was not enough evidence to remove the suspect and refused the request, but Leeds didn't back down. After being refused multiple times, Leeds obtained a petition for removal through the Livingston County Prosecutor's Office and had the suspect removed from the home pending her investigation. Her work led to the suspect being convicted on multiple counts of sexual assault this past July.

Leeds also investigated an alleged sexual assault involving a minor girl and an adult relative. The child, who lived out of state, said the assaults would happen when her family was visiting. Leeds' investigation and work with out-of-state officers led to the suspect being charged in Livingston County on multiple felony counts of sexual assault. A jury found the suspect guilty on all charges and he was sentenced to four to 15 years in prison.

In the third case, Leeds commenced an investigation after an elderly couple reported unauthorized charges on their credit card. The detective obtained surveillance footage from a store where one of the unauthorized charges occurred and the couple was able to identify the suspect in the video as a woman they had recently befriended. Duffany says further investigation found that the suspect had also stolen the couple's identity and opened or attempted to open 21 different credit cards in their name, as well as successfully lease a car in the couple's name. The suspect also used one of the fraudulent cards to pay off court costs related to a similar case in which she was convicted in. Leeds' investigation resulted in the suspect pleading guilty to multiple felony counts of identity theft and fraud, and a conviction of six to 15 years in prison.

Chief Duffany then presented Sgt. Paul with departmental citations recognizing her efforts in two separate cases that involved suicidal subjects. One case involved an 11-year-old boy who was threatening suicide. Duffany says when Paul and other officers arrived at the home, the boy was in an extremely agitated state, holding a 10-inch knife to his head. Paul began speaking to the boy and convinced him to put the knife down, before attempting to distract him by asking him about a lamp in his room, which he then threw at her. When she went to hand it back to him, she pulled him toward her, grabbed him in a bear hug and carried him out of the bedroom. He was taken to the hospital without further incident.

In the second incident, officers including Sgt. Paul were dispatched to a home on a report of a man threatening suicide. Paul was speaking with the man's wife when the man entered the living room with a loaded shotgun and sat down in a chair with the butt of the gun between his feet and the barrel pointing towards his head. Duffany says the wife was removed from the home and officers took cover. Paul spoke with the man through an open door for about 20 minutes. During that time, the man attempted to place his toe on the trigger to discharge the weapon on multiple occasions. Paul convinced him to place the gun on the floor, where she was eventually able to grab it. The man was also transported to the hospital without incident. (DK)

Top picture: Chief Duffany & Sgt. Paul
Bottom picture: Chief Duffany & Detective Leeds
---
SCAM ALERT:
07/09/2018 - The Hamburg Township Police Department has received several reports from concerned residents regarding phone calls that they have received from a New York phone number (area code 516). In the phone call people are being told that they have 4 outstanding warrants and that the "local police department" will arrest them on the warrants if they don't take care of them. This is a scam…please do not provide any personal information or respond to the phone call.
Please note the following:
1. No police department will ever attempt to have you "clear up" a warrant, post a bond or pay a fine over the telephone.
2. If you receive a call from someone reporting to be a police officer and you are suspicious about their true identity, please ask them for their name and the name of the police department for whom they work. Then hang up and either call that police department (using a phone number from a reliable source) or call your local police department and ask that they help you verify the legitimacy of the officer.
3. Please call your local police department and report if you are the victim of a scam attempt.
THURSDAY, JUNE 7, 2018: DOOR TO DOOR SOLICITORS
HTPD has recently received multiple questions/complaints regarding solicitor's going door to door. Hamburg Township does have an ordinance which regulates the activities of solicitors (Ordinance #37-B: Solicitors Ordinance).
All solicitors are required to obtain a permit from HTPD before conducting any activities within the Township (except peddlers for charitable or religious organizations licensed by the State of Michigan or US government). Upon obtaining the permit, solicitors are issued an identification badge by HTPD which must be displayed on their outer garment in a manner which is visible to residents.
Solicitors are only permitted to conduct their business during daylight hours between sunrise and sunset.
If you believe that a solicitor is in violation of this ordinance, is misrepresenting themselves or the product they are selling or is otherwise acting improperly (such as being overly aggressive in their sales pitch) please call Livingston County Central Dispatch and request that an HTPD officer be sent to investigate them as they can be issued a citation and/or have their permit revoked.
The full text of Ordinance 37-B can be found by clicking on:
http://www.hamburg.mi.us/…/ORDI…/Ord%2037-B%20Solicitors.pdf
---
PRESS RELEASE-
On March 15, 2018 at approximately 11:52 pm the Hamburg Township Police Department, the Hamburg Township Fire Department and Livingston County EMS personnel were dispatched to the report of a single-vehicle accident on Hamburg Road north of M-36. Upon arrival, officers found that a white 2018 Mercedes Benz had left the roadway and struck a tree. Preliminary investigation reveals that the vehicle was travelling southbound on Hamburg Road and left the roadway near Athlone Drive before striking the tree.
The driver and only occupant of the vehicle, a 29-year old Hamburg Township resident, was ejected from the vehicle and pronounced deceased at the scene. The investigation into the crash is ongoing and the Livingston County Sheriff's Department is assisting in the investigation.
Anyone with information related to this traffic crash and all other inquiries regarding this incident should be made to Hamburg Township Police Sgt. Tony Wallace at (810) 222-1179 or at twallace@hamburg.mi.us.
---

PRESS RELEASE-
On February 9, 2018 at approximately 12:38 pm the Hamburg Township Police Department, the Hamburg Township Fire Department and Livingston County EMS personnel were dispatched to the report of an injury accident on Chilson Commons Circle near M-36. Upon arrival, officers found that a 2003 Buick Century had struck the front of the building of The Wild Indoors Pet Supplies store located at 9560 Chilson Commons Circle.
The driver of the vehicle, a 77-year old Hamburg Township resident, was pronounced deceased at the scene. A 76-year old female passenger in the vehicle suffered minor injuries and was transported to a local hospital by Livingston County EMS.
No other vehicles were involved in the traffic crash and no one outside of the vehicle was injured. The investigation of the crash is ongoing.
All inquiries regarding this crash should be made to Sgt. Tony Wallace at (810) 222-1179 or at twallace@hamburg.mi.us.
---

POLICE OFFICERS HONORED FOR SAVING ELDERLY WOMAN FROM FREEZING TO DEATH

01/10/2018 - Read the story from the Livingston County Daily Press & Argus by clicking here.

---
Driving the New US23 Flex Route - Information From MDOT
---



08/28/2017 - Advisory: Suspicious Situation Investigation

The Hamburg Township Police Department is investigating a suspicious situation which occurred on August 26, 2017 in the Hay Creek subdivision near M-36 & McGregor Road in Hamburg Township. At approximately 2:00 pm, a 12-year old boy was approached by a vehicle that he described as a "gray minivan." The driver of the vehicle proceeded to call out to the boy asking him if he would like a ride home. The subject in this incident is described as a white male in his 20's.

The Hamburg Township Police Department is currently working with the Washtenaw County Sheriff's Department and the Livingston County Sheriff's Department to determine if this incident is related to similar incidents that have occurred recently.

At approximately 9:00pm on 08/27/2017, the Washtenaw County Sheriff's Department received a report involving a 9-year old boy who stated that a "white work van" with no decals had approached him and an occupant told him to get i nto the van. This incident occurred in the area of McGregor Road and Portage Lake Avenue in Dexter Township. The white van was occupied by two white males.

The Livingston County Sheriff's Department also received two similar complaints involving a white cargo van. These two incidents occurred in Putnam Township in the area of Cedar Lake Road & M-36 and Cedar Lake Road & Patterson Lake Road.

Anyone who may have information related to these incidents is asked to please contact the Hamburg Township Police Department at (810) 231-9391 or contact the Livingston County Sheriff's Department at (517) 546-2440.

For full details, view this message on the web.


---
07/18/2017 - Via Facebook: Coyote Sighting - Area of McGregor Road & Melvin Road
For informational purposes only, the Hamburg Township Police Department received a report this afternoon from a resident about a coyote in the area of McGregor Road & Melvin Road (between Shehan and M-36) carrying a small animal in its mouth. The resident related that they were positive that the animal in the coyote's mouth was a cat.
The following information regarding coyote-human interaction was obtained from the Michigan Department of Natural Resources website:
Coyotes r

arely attack humans. Bites from snakes, rodents, and domestic dogs are a far greater possibility than coyote bites, according to public health authorities. However, coyotes that are fed become accustomed to people and present a human safety risk. People should never intentionally feed or attempt to tame coyotes. It is in the best interest of both coyotes and humans if coyotes retain their instinctive fear of people. The following important points can help minimize potential conflicts with coyotes:
•Never approach or touch a coyote
•Never intentionally feed a coyote
•Eliminate all outside food sources, especially pet foods
•Put garbage out the morning of pickup day
•Clear out wood and brush piles; they are good habitat for rats and mice and may attract coyotes
•Practicing good husbandry practices, guarding animals, and applying coyote control measures can help to protect livestock
•Do not allow pets to roam free when coyotes are present - consider keeping pets indoors or accompany them outside, especially at nightFor additional information please click on the following link:

http://www.michigan.gov/…/0,4570,7-153-10370_12145_12205-60…
---




06/07/2017 - VIA NIXLE MESSAGE ALERT SYSTEM
https://local.nixle.com/alert/5993697/

Wednesday June 7th, 2017 :: 10:27 a.m. EDT
Advisory
---
U
pdated: April 7, 2020