News And Upcoming Events
---
Hamburg Township announces updates to our website www.hamburg.mi.us
Hamburg Township is committed to providing outstanding service to its residents and community. The Township is pleased to announce that residents and other stakeholders can now view Utility, Tax and Assessing information online along with the ability to pay Utility and Current Taxes (when available) through our third-party provider Point and Pay. Residents will be able to pay bills with a credit card and electronic checks/ACH payments.
---


LOCAL COMMUNITIES RANK HIGH ON SAFEST MICHIGAN CITIES LIST02/15/2020 - WHMI 93.5 FM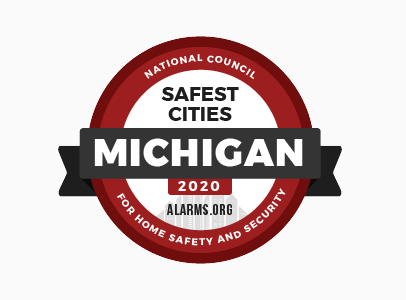 Several local communities have again been named the safest in Michigan.

The National Council for Home Safety and Security recently released its annual list of the safest communities in Michigan as a resource for citizens. South Lyon ranked #3, Hamburg Township at #5 and Milford as #7.

South Lyon is reported to have a violent crime rate of about one offense per 1,000. Hamburg Township, the most populated municipality in Livingston County, recorded the lowest total crime rate in all of Michigan, and was kept out of the top position only due to a low law enforcement-to-residents ratio of 0.82 per 1,000.

The study was completed primarily to highlight the cities that have had the least amount of violent and non-violent crimes per population, while also bringing awareness to the cities that are more likely to have crime per capita.

The Council for Home Safety and Security states that the crime situation in Michigan is one of contrasts as the state has one of the top 15 highest violent crime rates in the U.S., yet its property crime rate is well below the national level. Meanwhile, the state is home to some of the highest crime areas in the country, like Flint and parts of Detroit, as well as communities where crime is exceedingly scarce.

A link to more statistics is posted below. (DK)

https://www.alarms.org/safest-cities-in-michigan/
---
James Neilson
July 9, 1945 ~ February 3, 2020 (age 74)
Obituary
His Legacy… James Andrew Neilson Sr., 74, passed away February 3, 2020. He was born on July 9, 1945, in Detroit, Michigan to John Neilson and Isabella (Potts) Neilson. Jim married the love of his life, Colleen Patricia (Murphy) Neilson, on September 11, 1964, in Detroit, Michigan. Jim was a tremendous lover of all animals big and small, especially his dogs and wild birds. He spent many an hour building and installing birdhouses and feeders. He was a dedicated servant to Hamburg Township. His love of northern Michigan was eclipsed only by his love for his family.
His Family… Jim will be missed by his beloved wife, Colleen Neilson; he is the loving father of, James Jr. (Jessica), Rob (Katy), Ronda (Chris) Bergman, and Danielle (Jeremy) Thompson; dearest Papa to his grandchildren, Erin and Chelsea Bergman, Dylan and Liam Neilson, dear brother in law and uncle to many. Master of Finnigan. He is preceded in death by his parents, John and Isabella Neilson, and siblings; John Neilson, Isabella (Raymond) Johnson.
His Farewell… Jim's family and friends will gather on Sunday from 2 to 8PM at Borek Jennings Funeral Home, Hamburg Chapel. His Community Farewell will be held on Monday, February 10, 2020 at 2PM (1PM Gathering) at Borek Jennings. Hamburg Twp. Supervisor Pat Hohl will serve as celebrant. Memorial contributions are suggested to the family for future designation. Please leave a message of comfort for Jim's family at 1-877-231-7900 or sign his guestbook at www.borekjennings.com.
To send flowers to James' family, please visit our floral section.
---
Services
PRIVATE
Tuesday
February 4, 2020
10:00 AM
Borek Jennings Funeral Home- Hamburg Chapel
7425 E M36
Hamburg, MI 48139
---

Hamburg Township Trustee Jim Neilson dies after battle with Lou Gehrig's Disease
Jim Neilson, a trustee and former clerk in Hamburg Township, has passed away after battling Lou Gehrig's Disease.
Neilson came out of retirement to serve the township in 2009, said Hamburg Township supervisor Patrick Hohl, who described Neilson as kind and dedicated.
"Jim was a gentleman who truly was kind to a fault," Hohl said.
Neilson died Monday after battling the disease for close to a year. He was 75. The township announced the news Monday on its Facebook page.
Hamburg Township Trustee Jim Neilson, seen here, passed away on Monday Feb. 3, 2020 after battling amyotrophic lateral sclerosis, or ALS. Neilson also served for several years as the township's clerk. (Photo: Submitted)
Neilson announced in March that he was diagnosed with amyotrophic lateral sclerosis, or ALS, Hohl said. ALS is a progressive disease that attacks nerve cells that control the muscles.
Despite Neilson's disease, he continued to serve on the township board, even into last month, Hohl said.
Hamburg Township Clerk Jim Neilson (left), Trustee Mike Dolan (center) and real estate agent Rick Beaudin (right) discuss the importance of identifying Hamburg Township as a community Jan. 19, 2016. Neilson passed away on Monday Feb. 3, 2020 after battling amyotrophic lateral sclerosis, or ALS. Neilson also served for several years as the township's clerk. (Photo: File)
Neilson was appointed as clerk near the end of 2009 after former clerk Matthew Skiba was recalled, said clerk Mike Dolan.
He brought stability to a department that had been in turmoil for years, Hohl said, holding the clerk position until Jan. 20, 2016.
Later that year, he ran for, and won, a seat on the township's Board of Trustees, a seat he held up until his death.
"Up to the last minute, the man made himself available," Dolan said. "Jim was one of those guys who you'd say right off the bat, 'What a great guy'."
Described by Dolan as upbeat and caring, Neilson was "very, very proud" of Hamburg Township, even spearheading an effort in the township to create signs welcoming people into the community, Dolan said.
Livingston County Clerk Elizabeth Hundley met Neilson when she was elected in 2016, she said.
"Jim was the kindest and most welcoming clerk I got to deal with in my first year," Hundley said Monday.
Hamburg Township Trustee Jim Neilson, seen here, passed away on Monday Feb. 3, 2020 after battling amyotrophic lateral sclerosis, or ALS. Neilson also served for several years as the township's clerk. (Photo: File)
Bennett's Beavers founder Jim Bennett said Neilson helped the nonprofit organization obtain the building that housed the township's former fire station at 7252 Stone St. in Hamburg Township, where it is still located.
"He was just an all-around happy person," Bennett said.
Neilson's wife Colleen and their four children survive him.
Hohl said the township now has 45 days to appoint a new trustee to its township board.
Contact Livingston Daily reporter Sean Bradley at 517-552-2860 or at spbradley@livingstondaily.com. Follow him on Twitter @SbradleyLD


---
Fundraiser Set For Hamburg Township Employee Facing Terminal Cancer
January 6, 2020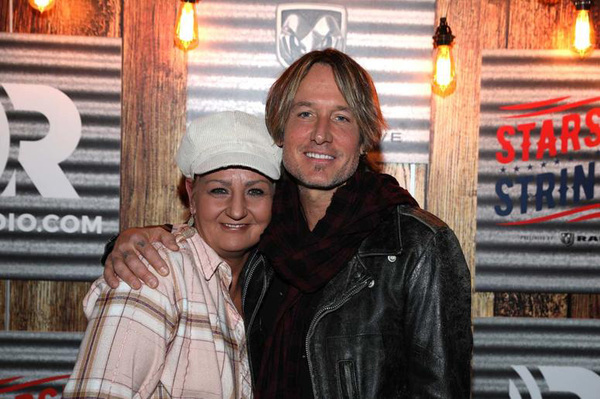 An upcoming fundraiser will benefit a well-known Hamburg Township employee facing terminal cancer.

Catt Pryde has worked at the township for 18 years in the clerk's department running elections and is married with a family. She has been diagnosed with four different types of cancer over the last 12 years and beat all but the last - which has settled in her bones. There are no treatments available and the goal of an upcoming spaghetti dinner fundraiser is to raise funds to help her pay for medical costs and continuing infusions to keep her immune system going.

Deputy Hamburg Township Treasurer Tricia Wiggle-Bazzy is organizing the event to help bring the community together because Pryde has been such a staple for Livingston County and Hamburg Township. She says Pryde is also her best friend so it's been tough but Pryde is a fighter. Wiggle-Bazzy says Pryde was diagnosed 12 years ago with breast cancer, went through years of treatment and beat it. A few years later, she was diagnosed with stomach cancer but did chemotherapy and radiation and then went into remission. In 2012, Pryde's stomach cancer came back but she fought it again and did treatments and went into remission in 2014. Wiggle-Bazzy says in 2015, Pryde thought she pulled a muscle in her foot but after being in a boot for about a month, doctors had a feeling something else was wrong. A scan revealed that Pryde has terminal bone cancer – which Wiggle-Bazzy says is a form of breast cancer that is now in her bones and terminal at stage 4. She says unfortunately it's really taking Pryde down quicker than normal and more recent scans from May of 2019 show that her timeline is dwindling. Pryde also can't do any treatments because after 12 years of chemo and radiation, her liver and kidneys are destroyed.

Wiggle-Bazzy says they had to stop any type of treatments, even if there was something to try and prolong her life and help her live a little longer but at this point there's nothing they can do. She says they're currently awaiting results from a recent scan in December to see where the cancer has spread. It's currently in Pryde's ribs, spine, hips, pelvis, foot and shoulder. Wiggle-Bazzy says in the 12 years Pryde has been battling cancer and going to the University of Michigan Hospital, she's racked up a lot of medical bills.

Wiggle-Bazzy tells WHMI Pryde is still working when she can and staying as strong as possible – which is why the slogan for the fundraiser is "never give up, never give in". She says all funds raised will go toward Pryde's medical costs and ongoing infusions that are needed to keep her immune system up so she doesn't get susceptible to pneumonia or other things that could attack her because she's so frail. Wiggle-Bazzy has also been organizing trips to help Pryde check off her bucket list – including a trip to Tennessee to have a record size cinnamon roll to a meet and greet with country singer Keith Urban (pictured). Next on that list is Las Vegas in February and a marshmallow factory. Wiggle-Bazzy says she can't take the cancer away but wants to do what she can to help Pryde live her best life right now.

The spaghetti dinner fundraiser is planned on January 24th from 5 to 8pm at the Livingston County Wildlife & Conservation Club, which will be open to the public. There is a $10 suggested donation per person and the event will include a silent auction and basket raffles. Silent auction items are being sought and a PayPal account has also been set up for donations. Those interested in more information or donating can contact Wiggle-Bazzy at 734-564-1277 or email her at tbazzy@hamburg.mi.us. (JM)
https://www.whmi.com/news/article/fundraiser-catt-pryde-hamburg-cancer
---
Hamburg Police Officers Recognized For Exceptional Actions
December 18, 2019 - FROM WHMI 93.5 FM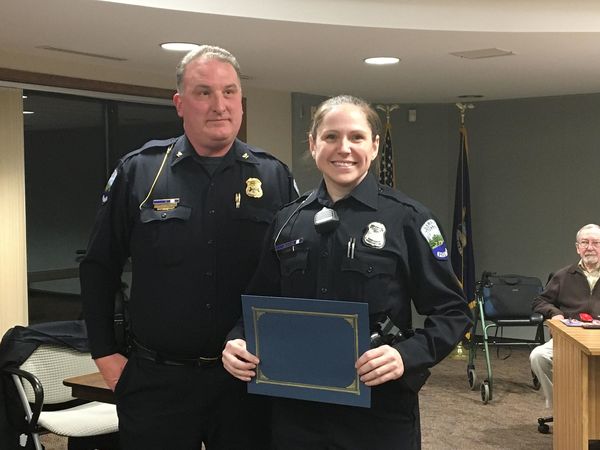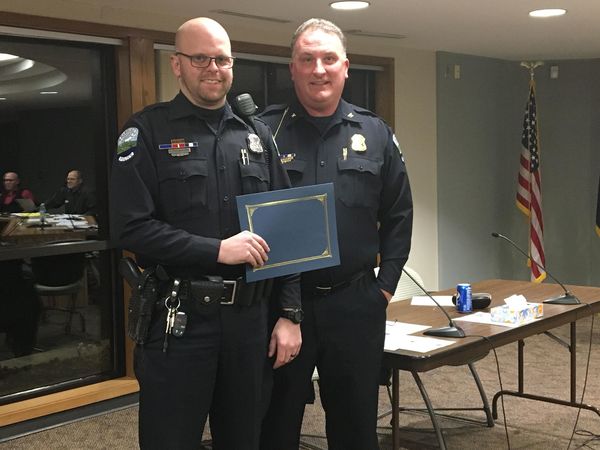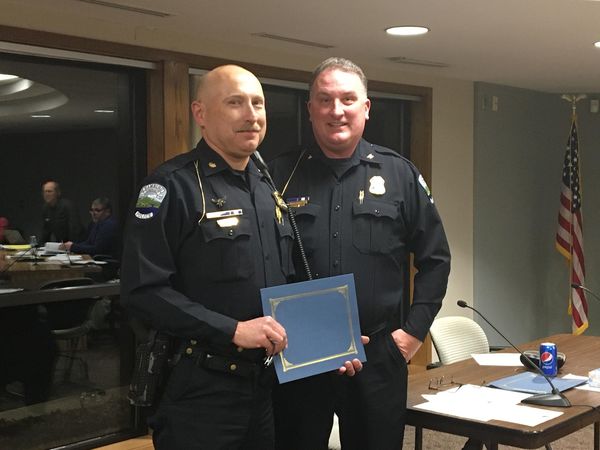 Several members of the Hamburg Township Police Department have been honored for going above and beyond the call of duty. Three officers were recognized for specific instances from the past year at the township's Board of Trustees meeting Tuesday night.

The first to be honored was Deputy Chief Dariusz Nisenbaum, who was awarded a Certificate of Merit for his actions on May 13th, which led to the arrest and conviction of two subjects for larceny. Nisenbaum was reportedly off-duty that day and shopping at the Home Depot store in the City of Brighton when he noticed a male subject acting nervously and checking to see if he was being watched. The subject did not make a purchase before leaving the store and entering a vehicle parked in the parking lot. A second male then left that vehicle and walked into the store. Believing a crime was about to occur, Police Chief Richard Duffany says Nisenbaum contacted Livingston County Central Dispatch and provided them with a license plate from the suspicious vehicle, in addition to requesting that police respond.

Minutes later, the second male subject exited the store through an unlocked gated area that had been unlocked by the first male. The second male was pushing a shopping cart full of items, unloaded them into the vehicle and tried to take off, but were stopping by Brighton officers. Subsequent investigation revealed that about $650 worth of merchandise had been stolen from the store. Both subjects were arrested and the merchandise was returned.

Officer Kimberly Leeds was awarded Department Citations for her investigation into a complaint regarding an alleged sexual assault on a minor girl by an adult relative. Police Chief Richard Duffany says the investigation conducted by Leeds was very in-depth and comprehensive, noting that she interviewed and re-interviewed numerous witnesses, and executed several search warrants on multiple phones, computers and the residence.

Leeds' investigation uncovered evidence that the suspect had actually sexually assaulted two minor girls over the course of a ten-year period. The suspect was charged with multiple felony counts this past July and recently pleaded guilty. He is now awaiting sentencing.

The third individual to be recognized was Officer Adam Fischhaber, who received the Lifesaving Award for his actions on September 28th that assisted in saving a 56-year-old woman who was in full cardiac arrest. Upon arrival at the scene, Fischhaber found the woman unconscious and her husband attempting to perform CPR on her. Duffany says Fischhaber found no pulse and then took over, performing CPR by himself for nearly three minutes. Fischhaber continued to perform CPR until EMS took over. The woman was transported to the hospital and survived the incident.

Officers from the Hamburg Police Department have been recognized by the township for their exceptional response to specific incidents with a ceremony at the last board meeting of the year. The tradition has continued for the last nine years. (DK)
---
Hamburg Township Recognized For Investment Policy
WHMI 93.5 FM - November 26, 2019


Hamburg Township Recognized For Investment Policy
After revising its investment policy, Hamburg Township has received national policy certification.
The Association of Public Treasurers of the United States and Canada (APT US&C) honored the township at a recent board meeting. The investment policy was reviewed and certified by the national organization. APT US&C President Mike Pettigrew, the Treasurer for the City of Ann Arbor, presented township officials with an award in recognition of the achievement. The certification requires an 18-point review of the submitted investment policy by a committee of 15 public and private sector volunteers from across the United States. Pettigrew said receiving the certification demonstrates a commitment by the township's investment officers to safeguard the funds entrusted to them by the community and to invest safely and securely. More....
---


Hamburg Residents Needed to Model for Portrait Group

The Portraiteers of the Hamburg Senior Center are looking for residents who would like to have their portrait done. The only requirement: you must sit fairly still for 20 minutes at a time (you get several 10 minute breaks) and be available Fridays, 12:30 to 3 PM. Models receive a $35 fee The artists work in a variety of media, and if one of the portraits are interesting to you, you can work something out with the artist. So if you are interested, contact Chris at the Senior Center and she will take down your contact info. Phone: 1.810.231.1000 Ext. 225


---
LIVINGSTON COUNTY EMS NOTIFICATION SERVICE NOW AVAILABLE
Livingston County Emergency Management has a system in place to notify the community of critical information like tornadoes and other severe weather, unexpected road closures, missing persons, evacuations and other emergencies that may endanger the public. They are asking that all residents sign up for this service.
Direct link to the sign-up page - https://member.smartmsg.com/index/453003085615617#/login
Link to Livingston County Emergency Management information page - https://www.livgov.com/emergencymanagement/Pages/livalert.aspx
Please share these links with your neighbors. The more people signed up for this notification the safer our community will be. Thanks!
Nick Miller
Deputy Chief / Training Officer
Hamburg Township Fire Department



---
Updated April 7, 2020