News And Upcoming Events


---
DNR Offering Safety Reminders Amid High Water Levels
06/18/2019 - From WHMI 93.5 FM: Recent rainy weather conditions mean that many lakes, rivers and streams in the state are experiencing higher than normal water levels. The Michigan Department of Natural Resources (DNR) is encouraging boaters, anglers and others to keep enjoying the water, but to also be aware of safety measures and local watercraft controls. Lt. Todd Szyska DNR law enforcement supervisor for southeast Michigan, says high water levels can cause flooding, deep water and strong currents, which can also increase the amount of debris floating on the water and under the surface.
He says reResidents need to be mindful of boating laws and area watercraft controls as they vary between regions, and what is considered harmless in one body of water could cause unsafe conditions in another. Szyska also encourages those participating to be aware of their surroundings, especially as overflowing water onto certain docks near a marina, or another structure with electrical power running to it, poses to the risk for electric shock drowning (ESD). ESD occurs when a person comes into contact with an electrical current in the water that can be caused by faulty wiring from boats, docks or other structures with electrical power running to it.

Szyska says an important measure residents can take to stay safe is knowing the area by utilizing maps or a boat's charting features. He also encourages kayakers and canoers to wear life jackets and to be aware of fast-flowing water, which is a result of high water levels. He adds that higher levels can make it more challenging for individuals to go under low-hanging obstacles. For additional safety tips and information about watercraft controls and access sites, visit the link below. (DK)
Web Link:
https://www.michigan.gov/dnr/0,4570,7-350-79119_79...
---
SEMCOG and MAC "Pulse of the Region" survey asks for citizen perspectives on Southeast Michigan's economy
SEMCOG, the Southeast Michigan Council of Governments, and its partner organization, the Metropolitan Affairs Coalition (MAC), have launched a survey to gather residents' perceptions on Southeast Michigan's economy.
Citizens are asked to take this quick survey. Responses will help guide our planning efforts.
"We're working on Southeast Michigan's next comprehensive economic development strategy," said Kathleen Lomako, SEMCOG Executive Director and MAC President. "To inform this strategy, we're looking for input from Southeast Michigan residents. This survey will help us identify those economic assets and challenges most important to the region."
This survey is powered by Cobalt Community Research, a Michigan-based 501c3 nonprofit research coalition with a mission to provide research and educational tools that help schools, local governments, and other nonprofit member organizations thrive as changes emerge in the economic, demographic, and social landscape.
---
Hamburg Library Seeking Artists For the 11th Annual Community Fine Art & Craft Fair

Hamburg Township Library is seeking artists for the 11th Annual Community Fine Art & Craft Fair, being held Saturday, October 5, 2019 from 9 am to 4 pm at the Library. This is a juried show. Applications available at the Library or online at www.hamburglibrary.org. Due September 23rd. Spaces fill up fast, so don't wait.
Health Department Seeking Prevalence Of Dangerous Ticks, Mosquitoes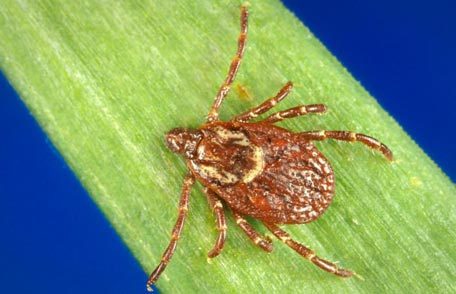 05/28/2019 - FROM WHMI 93.5 FM: The Livingston County Health Department is participating in a surveillance program to assess the risks mosquitoes and ticks pose to area residents in the summer months.

The Health Department is taking part in a Vector-Borne Disease Surveillance and Protection Program in coordination with the Michigan Department of Health and Human Service. They will be collecting mosquito and tick data from several Livingston County locations and sharing with the state to help better prepare the community in the case that the risk for disease is found.

This is first time the county will be testing for tick prevalence. Director of Environmental Health, Matt Bolang, said that the main thing people can do to protect themselves from Lyme disease is to check themselves and their children after coming in from outdoors. He says most of the ticks that people will find are dog ticks, or wood ticks, which are a little larger and brown in color. These are not generally dangerous, unlike the deer tick, which is lot smaller and redder in color.

Anyone bitten can try to remove the tick with tweezers by the base of the head. Bolang said they can contact the health department or their physician if they are concerned about the dangers of the bite.

With mosquitoes, the Health Department will be on the lookout for those carrying the Zika virus. Bolang said that because of Michigan's cold winters, the mosquitoes that carry Zika should not be able to survive here. However, while there have been no cases in Livingston County, Zika has been seen in Livonia. Bolang added that while West Nile virus is more of a late summer issue, that it's never a bad idea to protect yourself from either threat. The health department recommends using insect repellents, wearing long sleeves, and emptying standing water, like what can be found in flowerpots, gutters or birdbaths around your home regularly. More information and tips can be found on the health department's website, www.lchd.org. (MK)
---
Livingston County Solid Waste Program To Hold Electronics Collection Event
FROM WHMI 93.5 FM: 05/26/2019 - The event will be held Saturday, August 17th, from 9am to 1pm, in the parking lot of the East Complex of the Livingston County Offices in Howell behind the Aldi's grocery store.

The TV, computers and electronics collection event provides a free and convenient opportunity for local residents and small businesses with less than ten employees to safely recycle electronic waste. Items that will be accepted include TV's, computers, printers, monitors, and laptops. For computers and related items, residents should remove, wipe, erase or drill a hole through the hard drive.

The collection is made possible through a grant from Chem-Trend Inc. in cooperation with the Livingston County Drain Commissioner-Solid Waste Program. A full list of acceptable items can be found at the link below.

Web Link:https://www.livgov.com/dpw/Documents/HHWeventsande...
---
Hamburg Residents Needed to Model for Portrait Group

The Portraiteers of the Hamburg Senior Center are looking for residents who would like to have their portrait done. The only requirement: you must sit fairly still for 20 minutes at a time (you get several 10 minute breaks) and be available Fridays, 12:30 to 3 PM. Models receive a $35 fee The artists work in a variety of media, and if one of the portraits are interesting to you, you can work something out with the artist. So if you are interested, contact Chris at the Senior Center and she will take down your contact info. Phone: 1.810.231.1000 Ext. 225


---
LIVINGSTON COUNTY EMS NOTIFICATION SERVICE NOW AVAILABLE
Livingston County Emergency Management has a system in place to notify the community of critical information like tornadoes and other severe weather, unexpected road closures, missing persons, evacuations and other emergencies that may endanger the public. They are asking that all residents sign up for this service.
Direct link to the sign-up page - https://member.smartmsg.com/index/453003085615617#/login
Link to Livingston County Emergency Management information page - https://www.livgov.com/emergencymanagement/Pages/livalert.aspx
Please share these links with your neighbors. The more people signed up for this notification the safer our community will be. Thanks!
Nick Miller
Deputy Chief / Training Officer
Hamburg Township Fire Department



---
Updated June 19, 2019