News And Upcoming Events
---
Michigan Secretary of State Upgrading Decades-Old Computer System For Vehicle Records During Presidents Day Weekend Closure

02/07/2019 - For Immediate Release:
Secretary of State upgrading computer system during Presidents Day weekend closure
During a Presidents Day weekend closure, the Michigan Department of State will replace the outdated vehicle records system Secretary of State offices have used for decades with a modern computer system to better serve customers.
The Customer and Automotive Records System (CARS) will add new online options, improve existing online and kiosk services, and give staff a more efficient tool to process transactions.
New online options will include ordering license plates, renewing snowmobile registrations and ordering a Recreation Passport and replacement tab for a plate. Many transactions for auto dealers, repair facilities, mechanics and driver education instructors and providers also will be possible online.
During the upgrade, Secretary of State branch offices, online services and auto business transactions will be offline and unavailable from 5 p.m. Friday, Feb. 15, until 9 a.m. Tuesday, Feb. 19. Self-service kiosks will be taken offline in phases beginning Friday, Feb. 8. The seven Super Centers usually open Saturday will be closed Saturday, Feb. 16. All branches will be closed on Presidents Day (Monday, Feb. 18).
For a few weeks, as staff gets accustomed to the new computer system, service in offices may take longer. Customers are encouraged to use CARS e-Services at ExpressSOS.com or to complete their transactions outside this timeframe.
Late fees will be waived for transactions with expiration dates between Feb. 11 and March 2.
"This is a vital project for our department and its millions of customers and the first step in implementing our 30-minute guarantee," Secretary of State Jocelyn Benson said. "When fully implemented, the new system will transform our technology, making our work more efficient and our service to customers better than before."
After the vehicle records phase, the driver records system will be replaced over the next two years.
For more information, visit Michigan.gov/SOS.
Hamburg Police Officers Recognized for Outstanding Casework & Response
From WHMI 93.5 FM - December 19, 2018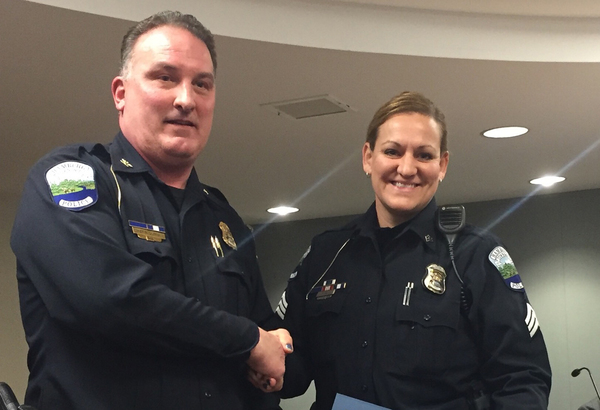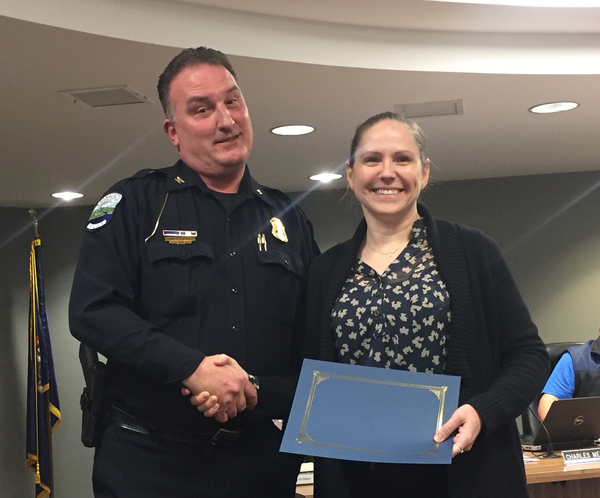 The Hamburg Township Police Department is honoring two of its own officers for their display of perseverance and courage in cases that occurred this past year.

Police Chief Richard Duffany recognized Detective Kim Leeds and Sergeant Megan Paul at a Hamburg Township Board of Trustees meeting Tuesday night. Duffany first presented Detective Leeds with certificates of merit for three separate cases she investigated; two of which were related to sexual assault involving minor children and the third related to credit card fraud.

In one of the sexual assault cases, Leeds received information that a teen male was sexually assaulting his younger sisters, prompting Leeds to immediately request that CPS remove the suspect from the family home. Duffany says CPS told Leeds there was not enough evidence to remove the suspect and refused the request, but Leeds didn't back down. After being refused multiple times, Leeds obtained a petition for removal through the Livingston County Prosecutor's Office and had the suspect removed from the home pending her investigation. Her work led to the suspect being convicted on multiple counts of sexual assault this past July.

Leeds also investigated an alleged sexual assault involving a minor girl and an adult relative. The child, who lived out of state, said the assaults would happen when her family was visiting. Leeds' investigation and work with out-of-state officers led to the suspect being charged in Livingston County on multiple felony counts of sexual assault. A jury found the suspect guilty on all charges and he was sentenced to four to 15 years in prison.

In the third case, Leeds commenced an investigation after an elderly couple reported unauthorized charges on their credit card. The detective obtained surveillance footage from a store where one of the unauthorized charges occurred and the couple was able to identify the suspect in the video as a woman they had recently befriended. Duffany says further investigation found that the suspect had also stolen the couple's identity and opened or attempted to open 21 different credit cards in their name, as well as successfully lease a car in the couple's name. The suspect also used one of the fraudulent cards to pay off court costs related to a similar case in which she was convicted in. Leeds' investigation resulted in the suspect pleading guilty to multiple felony counts of identity theft and fraud, and a conviction of six to 15 years in prison.

Chief Duffany then presented Sgt. Paul with departmental citations recognizing her efforts in two separate cases that involved suicidal subjects. One case involved an 11-year-old boy who was threatening suicide. Duffany says when Paul and other officers arrived at the home, the boy was in an extremely agitated state, holding a 10-inch knife to his head. Paul began speaking to the boy and convinced him to put the knife down, before attempting to distract him by asking him about a lamp in his room, which he then threw at her. When she went to hand it back to him, she pulled him toward her, grabbed him in a bear hug and carried him out of the bedroom. He was taken to the hospital without further incident.

In the second incident, officers including Sgt. Paul were dispatched to a home on a report of a man threatening suicide. Paul was speaking with the man's wife when the man entered the living room with a loaded shotgun and sat down in a chair with the butt of the gun between his feet and the barrel pointing towards his head. Duffany says the wife was removed from the home and officers took cover. Paul spoke with the man through an open door for about 20 minutes. During that time, the man attempted to place his toe on the trigger to discharge the weapon on multiple occasions. Paul convinced him to place the gun on the floor, where she was eventually able to grab it. The man was also transported to the hospital without incident. (DK)

Top picture: Chief Duffany & Sgt. Paul
Bottom picture: Chief Duffany & Detective Leeds
---

MDOT Offering Resources To Drivers During Winter Months
November 20, 2018
From WHMI 93.5 FM: The Michigan Department of Transportation has partnered with Michigan State Police to prepare motorists for winter driving.


MDOT and the MSP have produced a new video that will act as a resource for residents on how roads are maintained during winter months. Much of the focus revolves around improved technologies with plow trucks and the benefits that drivers can take advantage of when there is inclement weather. All of their plows are now equipped with green lights, and will flash back and forth between green and amber to improve visibility, especially during whiteout conditions. Jocelyn Hall, from MDOT's Office of Communications, says the response to these lights has been overwhelming positive.


Most of the plows now also have a live camera. Residents can log on to the Mi Drive website and the map to see not only where the plows are throughout the state, but also what the road conditions look like in front of them. Hall believes this will be a valuable resource in the morning for commuters who want to see if their route to work is cleared and what they can expect on the drive. MDOT is also reminding drivers to respect Michigan's Move Over Law, which requires motorists to move over for stationary vehicles with their lights on or to at least slow down and pass with caution if changing lanes is not possible.


The video can be found on their website, www.michigan.gov/MDOT, or on any of the department's social media feeds. (MK)
https://www.youtube.com/watch?v=hCG85h7sm-c
---

NEW 2017 VIDEO TOUR OF LIVINGSTON COUNTY

Livingston County government is pleased to present a 2017 Video Tour of Livingston County that showcases the advantages of living, working and playing in our County Community!
---
Hamburg Residents Needed to Model for Portrait Group

The Portraiteers of the Hamburg Senior Center are looking for residents who would like to have their portrait done. The only requirement: you must sit fairly still for 20 minutes at a time (you get several 10 minute breaks) and be available Fridays, 12:30 to 3 PM. Models receive a $35 fee The artists work in a variety of media, and if one of the portraits are interesting to you, you can work something out with the artist. So if you are interested, contact Chris at the Senior Center and she will take down your contact info. Phone: 1.810.231.1000 Ext. 225


---
LIVINGSTON COUNTY EMS NOTIFICATION SERVICE NOW AVAILABLE
Livingston County Emergency Management has a system in place to notify the community of critical information like tornadoes and other severe weather, unexpected road closures, missing persons, evacuations and other emergencies that may endanger the public. They are asking that all residents sign up for this service.
Direct link to the sign-up page - https://member.smartmsg.com/index/453003085615617#/login
Link to Livingston County Emergency Management information page - https://www.livgov.com/emergencymanagement/Pages/livalert.aspx
Please share these links with your neighbors. The more people signed up for this notification the safer our community will be. Thanks!
Nick Miller
Deputy Chief / Training Officer
Hamburg Township Fire Department



---
Updated February 11, 2019