Welcome To The Planning And Zoning Department
---
PLANNING AND ZONING DEPARTMENT
---
The Planning & Zoning Department oversees land use development within Hamburg Township and is responsible for administering the Zoning Ordinance and implementing the Township Master Plan. The Planning & Zoning Department serves as staff to the Planning Commission and Zoning Board of Appeals, and manages the following: Review of all Land Use Permits and development proposals; Zoning Ordinance provisions; Variance requests; Land divisions, lot splits, and boundary adjustments; Code enforcement; Special use permits and site plan applications; Floodplain Administration (NFIP/CRS community).
Planning and zoning staff may be contacted by phone at (810) 231-1000, ext. 231 or by email:

Office Hours: Monday - Friday, 8 am to 5 pm

---
You may mail Land Use Permit Applications to the following address (via USPS):

Hamburg Township
ATTN: Planning and Zoning Department
P.O. Box 157
Hamburg, MI 48139
---
Are you Building or Remodeling?
Land Use Permit Process & Forms
Municode-Zoning Ordinance
Municode-General Ordinance
Mast
er Plans
Livingston County GIS- Addresses
Livingston County GIS- Mapping Gallery
---
Boards and Commissions:
Seeking Volunteers for Planning Commission & Zoning Board of Appeals:
Hamburg Township depends on residents to serve our community on our Planning Commission or Zoning Board of Appeals. Volunteering for one of these is a great way to interact with our fellow residents and help shape the future of our township. To serve on a board or commission, you must live in Hamburg Township. Members of the boards and commissions are appointed by the Hamburg Township Board of Trustees for a term of office. To apply, you may download this
application here
. For more information, please contact our Zoning and Planning Office.
Planning Commission:


The Planning Commission (PC) is composed of 7 members. The PC oversees the comprehensive general plan for the physical development of Hamburg Township and serves as a review board for new building or redevelopment plans submitted to the township. The commission reviews cases such as zoning map and zoning code amendments, site plans, conditional use requests, and subdivisions. The commission meets on the third Wednesday of each month at 7pm. For more information about the planning commission, refer to our Municode. Chapter 2: Article III: Division II Planning Commission here.

PLANNING COMMISSION MEMBERS:
Jeff Muck, Chair
Joyce Priebe
Paul Bohn
Patricia Hughes
Ron Muir
Victor Leabu Jr
John Hamlin

Planning Commission Meeting Information
Zoning Board of Appeals (ZBA):

The Zoning Board of Appeals (ZBA) is composed of 5 members, including one member from the Planning Commission. The purpose of the ZBA is to hear and decide appeals and to authorize variances from the strict application of the Zoning Ordinance. The ZBA meets on the second Wednesday of each month at 7pm. For more information about the zoning board of appeals, refer to our Municode. Chapter 36: Article V: Zoning Board of Appeals here.
ZONING BOARD OF APPEALS (ZBA) MEMBERS:
Joyce Priebe, Chair
William Rill
Jason Negri
Craig Masserant
Deborah Mariani


Zoning Board of Appeals Meeting Information
---
Floodplain Information:
A large portion of the Township is comprised of 100-year floodplain. The majority of which is adjacent to the Huron River and the Chain of Lakes. Various floods from these water bodies and river have hit Hamburg Township in recent memory. Information on whether your property is in the 100-year flood plain can be obtained by coming into the Township Offices and have the Zoning Administrator assist you. Maps are available to look at as well as other flood related information. The Township also has Elevation Certificates for new development available back to 1986. All development within the 100-year floodplain (not just construction of buildings, but filling, excavation, fences, etc.) is required to obtain a Township Land Use Permit. Applications must be made prior to doing any work in a floodplain area. Please contact the Township Zoning Administrator to receive all the information you will need in order to properly develop in the floodplain. You may report any illegal development activities to the Planning and Zoning Department. Please call (810) 231-1000 Ext. 231 for further assistance.
Click Here for additional information about Flooding & Floodplains in Hamburg Township
---
Planning and zoning staff may be contacted by phone at (810) 231-1000, ext. 231 or by email:

Office Hours: Monday - Friday, 8 am to 5 pm
---
You may mail Land Use Permit Applications to the following address (via USPS):

Hamburg Township
ATTN: Planning and Zoning Department
P.O. Box 157
Hamburg, MI 48139
---
Importance of Identifying the Ordinary High Water Mark-EGLE (AKA MDEQ)


Homeowners and contractors must attain a permit for a project, especially if it is for a permanent dock, boat hoists, dredging, sand filling and shoreline stabilization. To learn more, check out the EGLE Video Series here at: https://www.youtube.com/watch?v=6XO_6ti0jVM

High Water Mark Indicators are:
Changes in substrate
Changes in vegetation
Development of a shelf
Change in slope
Presence / Absence of Litter
Water staining
Eroded areas
---
Ban of coal-tar as driveway and parking lot sealants in Hamburg Township.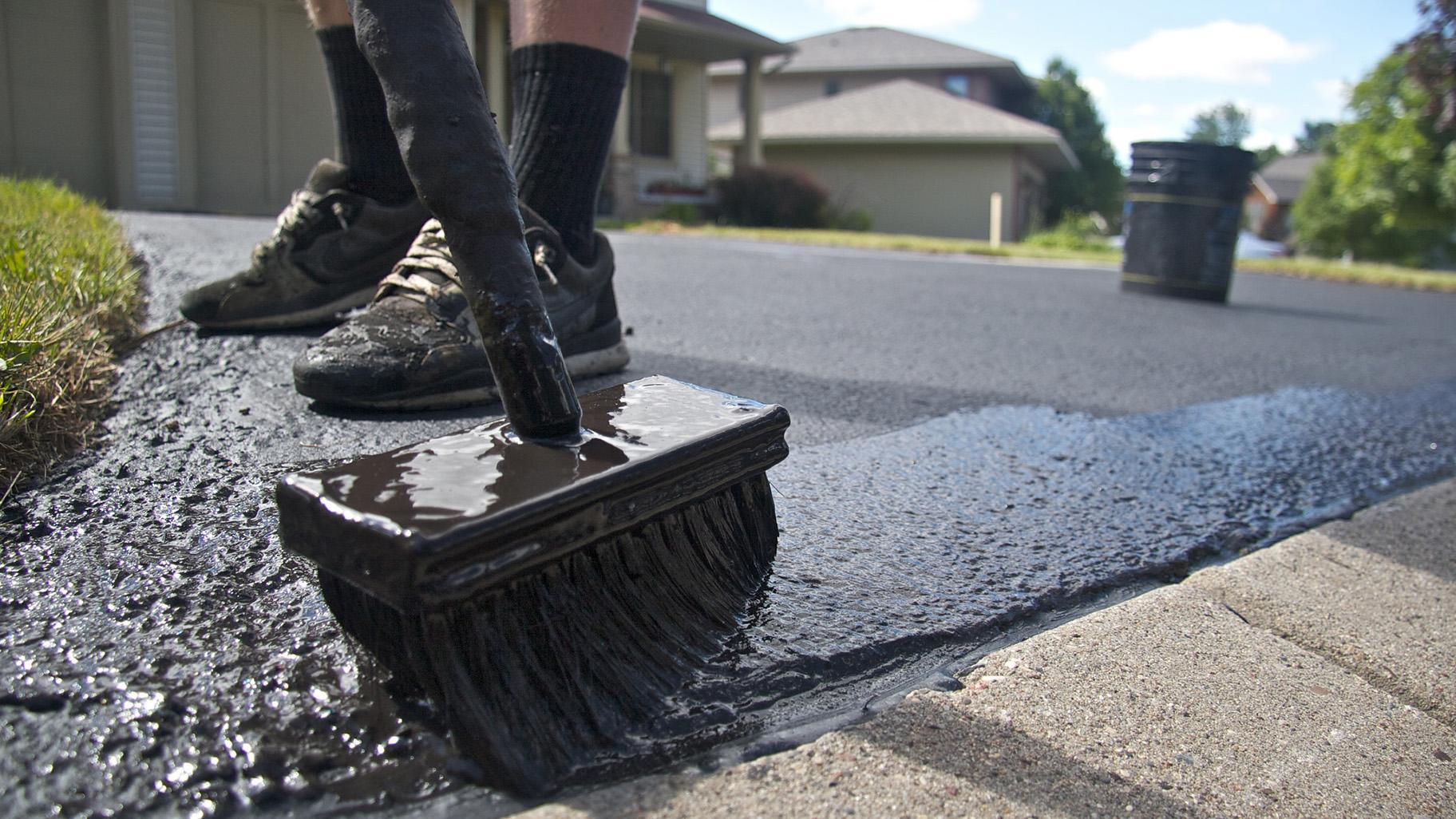 Coal-tar sealants are hazardous chemicals used as a common pavement sealant. Hamburg Township prohibits the use and sales of such products in the township in
Chapter 6
of Hamburg Township's Ordinance Code.
Coal tar pitch is a known human carcinogen. Many studies have shown an increased risk of cancer in humans and the impairment of water quality in streams. Coal tar wears off, breaks down into particles and washes into the watershed. Toxic compounds also evaporate into the air.
People
who live near coal-tar sealed pavement have 38 times higher polycyclic aromatic hydrocarbons, or PAHs levels than other individuals. PAHs are toxic to mammals, birds, fish, frogs, plants, and humans.* Coal tar based sealcoat ends up in
water bodies
. Hamburg Township is a bed-room community surrounded by the waters of the Huron River.
Some things to consider before having your driveway sealed-
Hire only a contractor who provides a MSDS (Material Data Safety Sheet) for the intended product used in the sealant job. Coal tar is listed as CAS : 65996-93-2.
If doing the driveway sealing job yourself, purchase products that have a "coal tar free" logo.
Asphalt is better for the environment than coal tar sealant.
*
https://www.usatoday.com/story/money/business/2013/06/16/toxic-driveways-cities-states-ban-coal-tar-pavement-sealants/2028661/
---
Trees have so many benefits.


Trees are the longest living organisms on earth. No matter how the size, every tree provides an environmental benefit that improves our community. Trees renew our air supply by absorbing carbon dioxide and producing oxygen. Shade trees can help make buildings up to 20 degrees cooler in the summer. Tree roots stabilize soil and prevent erosion. Trees improve water quality by slowing and filtering rain water, while protecting aquifers and watersheds such as Hamburg Township's. Tree canopies can provide protection from snow, hail and rainfall energy as well as reduce storm run-off and possible flooding.* Trees absorb 10 gallons of water for every 1 inch of trunk diameter. Trees can absorb up to 150 gallons of water in a single day.** Trees provide food and shelter for local wildlife, as well as migrating songbirds, bees, and butterflies. Trees can help cut down on noise pollution by acting as sound barriers. Planting and allowing trees to mature on properties can increase your property values by 15%. Trees, also, add aesthetic value to our bedroom community.

According to Peter Wohlleben, a German forester and author of The Hidden Life of Trees: What They Feel, How They Communicate, trees are far more alert, social, sophisticated, and even intelligent, than we thought. Trees are very considerate in sharing sunlight, and their root systems are closely connected. In cases when one tree dies, other nearby trees die soon afterward, because they are dependent on each other. Through this wood-wide web, trees communicate to other nearby species via chemical interactions through their long roots that connect via mycorrhizal and fungi networks underground. Trees and plants also release pheromones and other scent signals through their leaves to other nearby species and other beneficial insects. Trees and other plant species can communicate through sounds in their phylum when they are being attacked by disease pathogens or insects. ***

Spring and Fall is the best time to plant trees and shrubs. The MDNR is asking all Michigan residents to consider planting trees on their properties to reach the goal of 50 million by 2030. When considering a tree or shrub, project how large this type of tree or shrub specie will be when fully mature, as you decide where the most appropriate place for planting is. Planting Michigan native species trees and shrubs are best for providing food and cover for our native wildlife.

For more information on planting trees and shrubs, check out Michigan Gardener article here, Arbor Day Foundation here, or the 50 million tree pledge by 2030 by the MDNR here.

*https://www.woodlandtree.com/terrans-tips/posts/fun-facts-about-trees
**https://www.royalparks.org.uk/parks/the-regents-park/things-to-see-and-do/gardens-and-landscapes/tree-map/why-trees-are-important
*** https://www.smithsonianmag.com/science-nature/the-whispering-trees-180968084/
https://pixabay.com/vectors/search/tree/
---
Lawn tips that save you money.

Five Tips for Maintaining a Lawn While Doing Less and Hopefully Saving Some Money
by Kevin Frank, Michigan State University Extension, Dept. of Plant, Soil and Microbial Sciences.
April 8, 2016.
Autumn Brown to Spring Green
by Terry Gibb on November 21, 2016.
1. Mow high (follow 1/3 rule).
2. Ensure your mower is working well (Check ups).
3. Sharpen mower blades.
4. Return clippings and mulched leaves back to the turf grass.
5. Select slow release fertilizers. (Worm castings works great.)
See these Michigan State University Extension articles
here
and
here
. Also more resources from the University of Minnesota Extension
here
and
here.
---
Canada geese: migration and your shoreline.
Reasons for the increased populations of
Canadian
Geese over the past 50 years:
Federally protected migratory bird
Short manicured grass
Few predators
People feeding geese and wild fowl
Lush lawns along lakes and in golf courses are highly attractive to these species.

Ways to reduce and control population of Canadian Geese:
Having collies and other herding breeds of dogs can repel these species.
Creation of a buffer zone along the lakeshore (tall native vegetation)
Temporary fencing can help protect newly planted vegetation and keep geese out.
Hunting requires a state license. (Learn more here.)
Resource: https://www.michigan.gov/-/media/Project/Websites/dnr/Documents/LED/digests/waterfowl_hunting_digest.pdf?rev=53c29b912d0b4454aa303330e9e02d3b

---
Michigan Shoreline Stewardship Program:
https://www.mishorelandstewards.org/

Are you a lakefront property owner? Become a Michigan Shoreland Steward today. To learn more about the MI Shoreland Stewardship Program, visit here.
Are you a

contractor

?
Share these
resources
with your clients.
Are you a

Lake Association

?
Register your lake association for association access on their website.
---
Michigan Natural Shoreline Partnership:
www.mishorelinepartnership.org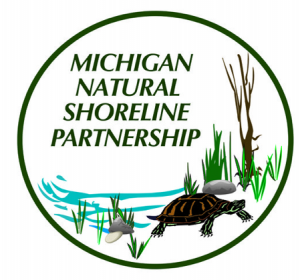 Natural Healthy Lakeshores

- Soft bioengineered shoreline buffer (encapsulated soil lift) is made up of native plants, coir (coconut fiber) logs, erosion blankets, rocks and rip rap. See here for more information. Soft bioengineered shoreline buffer (or a encapsulated soil lift) is made up of native plants, coir (coconut fiber) logs, erosion blankets, rocks, and rip rap. See this flyer. Also check out this booklet here.

Hard structured seawalls

- create a barrier in the shoreline zone that negatively impacts Michigan native wildlife, birds, turtles, and amphibians that are dependent on this area for habitat and reproduction. For example; the Spotted, Wood, and Blanding's Turtle are declining in numbers. 50% of Michigan inland lakeshores has been developed (high-impact) with Kentucky Bluegrass that is mowed to the water's edge. Most of the native plants and trees have been replaced with exotic, invasive plants. 67% of our native birds, fish, reptiles, and amphibians are becoming threatened and endangered by this hardening of our Michigan shoreline zone.

Maintain 4 Michigan Lakeshore Zones

on your property for a healthy environment. See this flyer for more information.
Upland Zone- area starts 35 ft. from the top of the shoreline bank, which includes structures such as the house, driveway, and garage.
Buffer Zone- area immediately next to the lake, which includes the first 35 ft of the lakefront property.
Shoreline Zone- area that transitions from the water to the land. This area begins at the top of the bank and extends to the land-water interface.
Lake Zone- area called the littoral zone of the lake, which includes the shallow part of the lake. The size of this zone is dependent on the lake size, shape of the bottom of the lake (bathymetry) and the water levels.
---
Huron River Watershed Council
The power of plants. Deep-rooted native plants are not only beautiful, but also trap and filter polluted runoff from roadsides and rooftops. And they generally require fewer pesticides and less water. Learn more at
HRWC.org/landscaping
and check out the
2022 Huron River Watershed Community Calendar
featuring native plant and rain garden profiles.

WHERE TO GET NATIVE PLANTS: HRWC's list of native plant suppliers (created with help from the Washtenaw County Rain Garden Program).

Save the date for the Native Plant Expo and Marketplace, Saturday, June 4, 9am-1pm. Chelsea Community Fairgrounds, 20501 Old US-12 Hwy. Shop for Michigan native plants from several Michigan native plant growers, learn how to establish and maintain native landscapes and connect with companies specializing in planning native landscapes.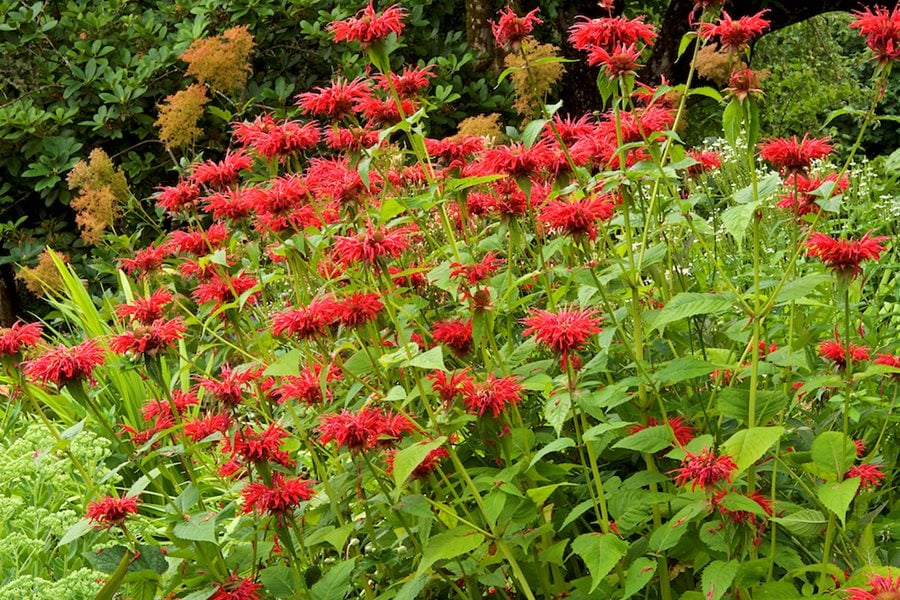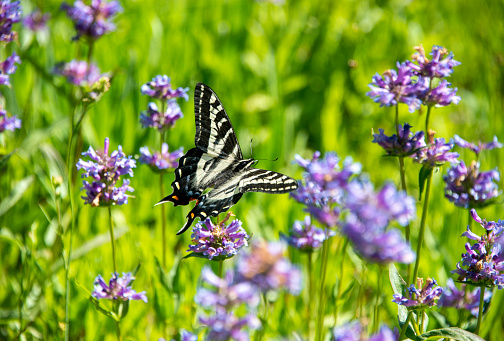 For more information about the Huron River Watershed Council, go to https://www.hrwc.org/
---
Rain Gardens:


https://www.mywatersheds.org/rain-garden-101

A rain garden is a depressed area in the landscape that collects rain water from a roof, driveway or street and allows it to soak into the ground. Rain gardens can come in all different shapes and sizes. Planted with native grasses and flowering perennials, rain gardens can be a cost effective and beautiful way to reduce runoff from your property. Its design allows the rain garden to serve almost as a bowl that collects water from downspouts or overland flow across a property. The water is then able to slowly infiltrate into the underlying soil. The best areas are generally where water naturally drains but doesn't hold water. It should also be located at least 5'-15' away from your home. The rain garden should be located in a place that can collect as much impervious area (driveway, roof, sidewalks) runoff as possible.

"Rain gardens perform the following functions: filter storm water before it enters local waterways, alleviates problems associated with flooding and drainage, recharges the ground water supply, provides habitat and food for wildlife which includes birds, butterflies and bees, and enhances the beauty of yards and the community."*

Resources on how to build a Rain Garden-
Greater Lansing Regional Committee on Storm Water Management- here
Huron River Watershed Council -here
Livingston County, NY- here
MSU Extension- here
EPA Green Infrastructure- here
SEMCOG Green Infrastructure- here
SEMCOG Rain Gardens 101- here
Water Resources -Washtenaw County- here


https://www.romi.gov/1333/Rain-Garden-Information
*
https://www.canr.msu.edu/news/why_do_we_need_rain_gardens
---
Rain Barrels:

According to the EPA website, rain barrels capture water from a roof and hold it for later use such as on lawns, gardens or indoor plants. Collecting roof runoff in rain barrels reduces the amount of water that flows from your property. It's a great way to conserve water and it's free water for use in your landscape. Many cities and towns distribute rain barrels to residents through annual sales. Other sources include online retailers, local home and garden supply stores. Cisterns are also used to "harvest" rain water. With a greater storage capacity they may be located above or below ground. Remember that as rain water flows over a roof surface it can pick up pollutants such as bacteria from birds and other animals, and chemicals from roof materials - factors to consider when thinking about using rain barrel water on edible plantings.
Resources for Rain Barrels:
EPA-Soak up the Rain -
here
EPA Water Conservation Rain Barrels -
here
Gardener's Supply Company -
here
How to Make a Rain Barrel from Clemson University -
here
Rain Barrels for Vegetable Gardens with Rutgers's University -
here
Rain Barrels (Washtenaw County) -
here
Washtenaw County Conservation District -
here
---
The Difference Between Recycling and Composting
Many individuals get these two cycles confused thinking they are part of the same process, but they are not.
Recyclable materials
are collected, processed (washed and chipped into flakes or coils) and remanufactured into new products that are made with the same basic materials of the original material. Such products could be a plastic #1 pop bottle made into a new shirt, new carpet, or a new pop bottle or steel soup cans made into steel coils that are used to make new automobiles.
Compostable products
are food scraps, paper towels & napkins and uncoated paper products, and yard waste (tree limbs, leaves, spent flowers, field grass) that are grounded up, mixed together and allowed to breakdown through a heated process. The result of the compost process in vibrant, healthy humus. Black humus is organic matter that is broken down into its smallest particle form. It releases macronutrients for plants and provides a soil amendment that improves compacted clay soils, and increases the soil's texture and water retention abilities. Mixing the materials from these two cycles together can cause many problems, which include damaging MRF (
Material Recovery Facility
equipment where recyclable materials are sorted) as well as adding
toxic materials
to this soil humus that is used for growing vegetables and perennial plants.
Recycling: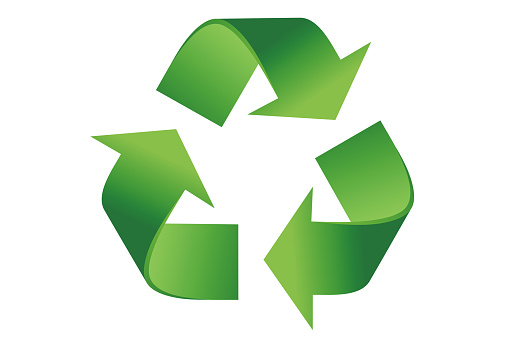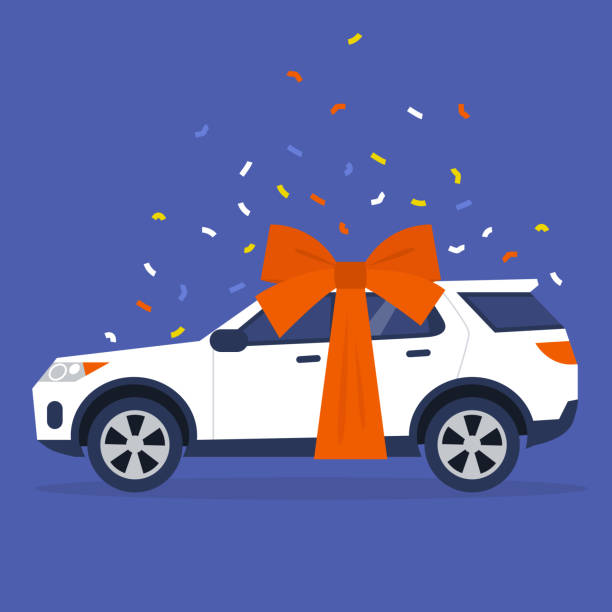 According to the EPA website,
recycling
is the process of collecting and processing materials that would otherwise be thrown away as trash and turning them into new products. Recycling can benefit your community and the environment. Recycling reduces the amount of waste sent to landfills and incinerators, conserves natural resources such as timber, water, and minerals, increases economic security by tapping a domestic source of materials, saves energy, supports American manufacturing, conserves valuable resources, and helps create jobs in the recycling and manufacturing industries in the U.S.
Recyclable materials
are collected, processed (washed and chipped into flakes or coils) and remanufactured into new products that are made with the same basic materials of the original material. Food scraps, paper towels & napkins, plastics other than #1 and #2, plastic bags, leaves, hoses and appliances do not belong in your recycling cart or bin. Things to recycle are office paper, newspaper, junk mail, paper board, cardboard boxes, aluminum foil and cans, glass, steel, unrecycled Styrofoam (that breaks in half when you bend it), and #1 and #1 plastics.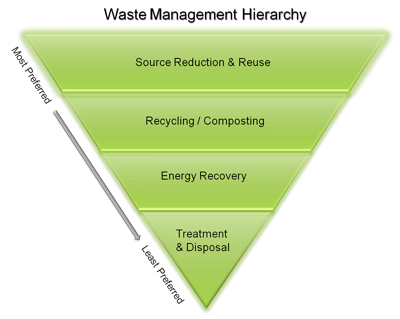 https://www.epa.gov/smm/sustainable-materials-management-non-hazardous-materials-and-waste-management-hierarchy



Places that you can take your recycling are
:
Livingston County Hard to Recycle Items -
here
Livingston County Waste Reduction Guide -
here
Monroe Rubbish Removal, Inc -
here
Recycle Livingston -
here
Recycle Ann Arbor's Drop Off Station -
here
---
Composting:
According to the Livingston County website,
composting
is the natural breakdown of organic materials, where the wonderous world of tiny microbes play a huge part in our environmental and physical health. Microorganisms, such as bacteria and fungi, break down the organic matter such as leaves, tree limbs, food matter, spent vegetation such as grass clippings, dead flower petals & plants, and uncoated paper products (paper towels, napkins, & Kleenex). They produce carbon dioxide, water, heat and black humus which is a very stable organic end product of the composting cycle. The
compost recipe
consists of 2 parts
carbon
(dried leaves, straw), 1 part
nitrogen
(coffee grounds, food scraps),
water
till pile is like a wet sponge, shovelfuls of
soil
, and
air
. The carbon to nitrogen ratio mix of materials added to the pile can help to quicken the composting process. Many individuals do not realize that the size of these particles, the amount of moisture (water from garden hose), air (frequency of turning the pile), and shovelfuls of soil (microbe inoculation) will help the microbes move around and breakdown the pile of organic matter efficiently. The composting process proceeds through three phases; 1) the Mesophilic or moderate temperature phase which lasts for a couple of days, 2) the Thermophilic, or high temperature phase which last from a few days to several months, and finally, 3) a several-month Cooling Phase (maturation phase).*
By diverting compostable items from your regular trash, you reduce your waste by 30%, thus reducing the production of methane into the atmosphere. Keeping compost onsite will help to improve the health of your soil by increasing the organic matter there. When you mulch your grass clippings and dried leaves on your lawn, you are naturally adding about 1/3 of the annual nitrogen needs for the year to your field grass. When spreading slow release, organic nitrogen to your lawn, you are ensuring the tiny microbes that live in your soil will survive, thrive and be able to assist the trees and plants that grow on your property. When giving your soil beneficial blood meal, vermicompost and organic nitrogen fertilizer, you give microbes what they need. When chemical fertilizers and pesticides are added to our lawn and gardens instead, these microscopic bacteria and fungi will dry up, die or try to flee from your yard due to the heavy toxins and salts that make up these chemical additives. These tiny micro- and macro-organisms will then populate the vegetables and fruits that we grow in our yards. In turn, they will provide us with a healthy,
diverse microbiome
or
intestinal tract
, which is needed to reduce illness in our bodies. According to some medical experts, many aliments are related to a minimally diverse microbiome, such as Depression, ADHD, Autism, Parkinson's and Alzheimer's Diseases, Multiple Sclerosis, Heart Disease & Stroke,
Composting Resources and Composting at Home (resources);
Backyard Composting & Vermicomposting Resources (U.S. Composting Council) -
here
Composting: Wastes to Resources (Cornell University) -
here
Composting Processes (Cornell University) -
here
Five Gallon Bucket Composter (Lisa Perschke) -
here
Home Composting (Cornell University) -
here
Living Soil Film -
here
The Compost Story -
here
Tuthill Farms & Composting -
here
Washtenaw County Composting -
here
*Cornell University website

Updated 11-4-2022 LDP